Cancel/Reverse Withdrawal
Any money that is requested for withdrawal is not available for placing wagers on the site. This money is kept in a separate bucket until the withdrawal is processed when it is sent to the payment method. You can cancel/reverse a withdrawal transaction as long as it is not processed.

If you cancel a withdrawal, the money restricted towards it is immediately added back to the available account balance and you can use it to place wagers.

How to cancel:

Click on the menu icon

Click on Bank

Click on Withdraw Money

Click on Reverse Withdrawal

You will now see a list of pending withdrawals. You can select the withdrawal to cancel and click on the 'Reverse' button.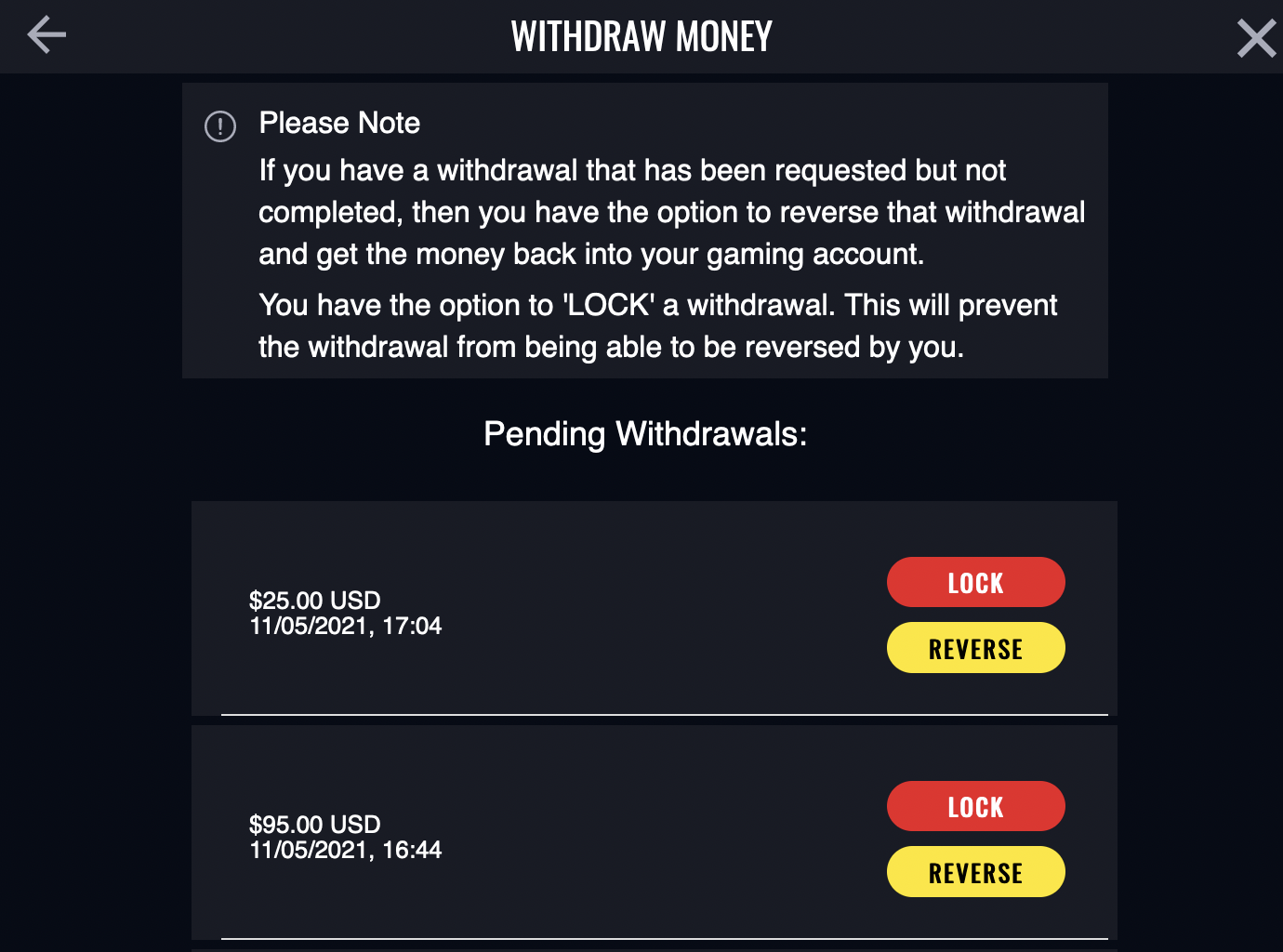 Related Articles

Lock Withdrawal

Locking a withdrawal prevents you from cancelling it. How to lock a withdrawal: Click on the menu Click on Bank -> Withdraw Money -> Reverse Withdrawal For the transaction you want to lock, click the Lock button. Confirm that you want to lock it. ...

Withdrawal Options

You can withdraw money from your gaming account using any of the following methods. DRF Play+ (prepaid card) Online Banking by Trustly All withdrawal transactions will be reviewed before they are approved and/or processed. This can take up to 72 ...

Close My Account

You can close your account yourself at any time. Click on the menu settings Click on Responsible Gaming Click on Close Account On the pop-up screen you see, click on the Close Account button If you want to play in future, you can contact our support ...

Limit your game play

You can use the following tools to help you use our site enjoyably without going overboard in your spend or losses. Deposit Limit - allows to set daily, weekly or monthly limit on the amount you can deposit Time Limit - allows you to set the total ...

Account History

You can check the transaction and/or game history from the account menu. Click on the menu Click on Account Then click on Game History Click on Transactions Choose the date rage for reviewing the transaction history and click on Search button You ...